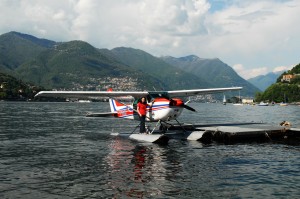 Ciara holds a private pilots licence for single engine aircraft on land and sea, having started her flight training in Como on seaplanes. She did her first solo flight on water and her second solo flight on wheels.
Ciara is governor of the Italian section of the Ninety Nines, the oldest and biggest organisation of female pilots in the world. She was on the 2020 judging panel for the International Awards including the George Palmer Putnam award (Amelia Earhart's husband).
She is a contributing writer to the Ninety Nines magazine, and a member of the EAA (experimental aircraft association), AOPA (aircraft owners and pilots association), SPA (Seaplane Pilots Association, Fla) and closest to her heart, the Aero Club Como. She took part in the Six Lakes Race at the Aero Club Como in 2018 as part of the first female only crew.