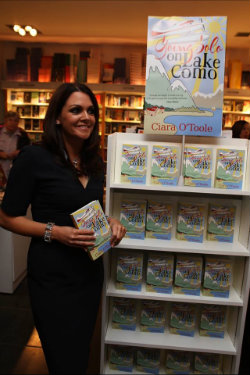 Several years ago Ciara and her then husband bought a house on Lake Como, Italy with the intention of starting a new life there. Things took an unexpected turn and Ciara found herself alone in Italy, but she didn't speak Italian. She decided that, rather than going home to Ireland, she would tough it out and see what happened. It ended up being the adventure of a lifetime with so many colourful stories including becoming a seaplane pilot that she ultimately wrote a book about the experience entitled 'Going Solo on Lake Como'.
The book is available in paperback and Kindle version through amazon.co.uk & amazon.com and in digital version on the majority of e publishing platforms.
Irish media and Amazon reader reviews below
……………..
………………
………………
………….
………
Media Reviews:
 Irish Tatler Magazine
'An inspirational tale of how one woman overcomes staggering odds after her marriage ends. Funny, intimate and at times disarmingly honest, a great way to spend an evening.'
 Image Magazine:
'Highly readable with an enchanting insight into Italian culture.'
 Social & Personal Magazine
'After a particularly shaky start in Italy, the businesswoman summons the courage to make a go of it, against all odds. The account of what happens next is told with warmth, humour and disarming honesty.'
Amazon Reader Reviews:
'The Irish girl in Italy shows you "la dolce vita", regardless what comes her way. I could have kept reading and thinking "you go girl"…'
'The book is immensely readable, and the author comes across as individual, remarkable, a bit nutty, and hugely likeable. I was rooting for her all the way.'
'Wonderful read, once you start you can't put it down.'
'It's got all the elements of a blockbuster movie. An inspiring and entertaining read, especially for anyone looking to rediscover their mojo.'
'Ciara's writing is always honest, and similar to Elizabeth Gilbert in Eat, Pray, Love, she doesn't gloss over the difficult parts, which makes it a compelling read.'
'I loved this book and read it in practically one sitting. The author is incredibly honest about everything that happens to her. What I really like is that instead of getting bitter or running home, she stays true to what she believes and what she wants'